Welcome to the Fall Evaluation School
| | |
| --- | --- |
| The fall school presentation slides are now online. | |

The Program for the Fall School is now available to download.

Fall School Program - Download PDF

We're looking forward to seeing everyone on Monday morning at 8:30am. Venue details are included in the program.
The Evaluation School will provide both basic and state-of-the art training in evaluating inequities. The school will incorporate ideas from multiple evaluation traditions. Achievement will come through a combination of hands-on exercises, presentation of cutting edge inequity concepts from practice, policy and research, and an introduction to a wide variety of methodologies for evaluating inequities.
The school faculty will include evaluation leaders from the UK, Canada and the US.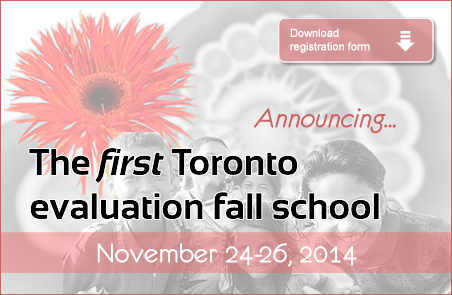 The three days will be structured along the following three themes:
Day 1 (November 24th): Evaluation Design for Equity-Focused Interventions, Understanding Inequities, and Theory of Change for Inequities
Day 2 (November 25th): Measurement, Data Collection and Sampling for Inequities
Day 3 (November 26th): Analysis, Mixing Methods, Learning Systems and Communicating Results
The classes will be targeted at both the basic and intermediate levels. Classes will be open to public health professionals, academics and evaluators from other sectors. Classes will be offered at a small cost.